Your brakes are one of your car's most important safety systems, which means you'll want to make sure they're always in great condition to bring you to a stop on the road. Bringing your car to our service center for a brake system check is a great way to make sure they're functioning properly. If you ever suspect that they may be having a problem, bring your car in for service right away. Our service center is staffed by expert technicians who can diagnose a problem in just a few minutes, and provide the necessary fixes in just a few more! They'll have you back on the streets of Cape May County, Salem County, and Cumberland County in no time.
Signs of a Brake Problem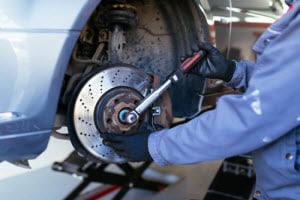 If your brakes are experiencing an issue, it's likely that they'll exhibit some signs that they need help. None of these should ever be ignored, or the problem could worsen and cause damage, leading to the need for further repairs. Be sure to bring your car in for regularly scheduled maintenance, so your brakes are checked periodically. That way, potential problems can be avoided altogether.
Strange Sounds: Squealing, squeaking, or grinding sounds are likely a sign that you need new brake pads or rotors.
Warning Lights: The ABS light on your dashboard may illuminate if there is a problem with your anti-lock braking system. You may simply be low on brake fluid, but you'll want to get the car checked out right away.
Pulling: If your car appears to be pulling to the right or left when you press on the brake pedal, your brakes may not be adjusted properly, which can be dangerous.
Stubborn Pedal: If it's difficult to depress your brake pedal, there could be air trapped in the brake lines. Get the system inspected immediately!
Vibrations: If the steering wheel or brake pedal is rattling or vibrating as you brake, you'll need to get the brakes inspected immediately.
Schedule Your Brake Service
Do you notice any of these troubling signs? Or, do you want to get your braking system inspected? Contact us at Action Hyundai of Millville today to schedule your service appointment, and you'll be back on the roads of Cape May County, Salem County, and Cumberland County right away!