If you've noticed a new light on your dashboard that wasn't on before, it's likely an indicator light that's letting you know that your car needs service or attention of some kind. You may not know what the light symbolizes, however, which can be cause for concern. After all, if the light is an indicator of a serious problem, you don't want to ignore it, but you also don't want to overreact and seek service for a light that's no big deal.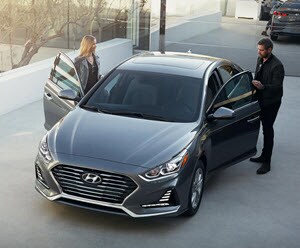 If you're unsure what each symbol on your dashboard stands for, you're not alone. Many drivers in Cape May County, Salem County, and Cumberland County feel the same. That's why our team here at Action Hyundai of Millville has put together this guide, to give you all of the information you need in one place, as a quick and easy reference. This is our Hyundai Sonata dashboard symbols guide, where you'll learn what the indicator symbols in your car stand for, and how to react properly to each one.
Hyundai Sonata Warning Lights
Your car dashboard lights can signal anything from the need to fill up your gas tank, to a warning to stop driving immediately to avoid the risk of incurring expensive engine damage you to your car. Here's a breakdown of all of the most common indicator lights on your dashboard. You'll discover what each light is trying to tell you, and the proper next steps to take to ensure that your car remains healthy and performing smoothly and safely for years into the future.
| | |
| --- | --- |
|    | ABS Warning: Seeing the letters ABS light up on your dash indicates a problem with your Sonata's anti-lock braking system. Your regular braking system will continue to perform as normal, but you should seek service soon to ensure safety. |
|    | Air Bag Warning: A seated passenger and a solid circle may appear to indicate an issue with the air bag system. Seek service immediately to ensure that your car is equipped with functional safety features. |
|    | Charging System Warning: A rectangular battery-shaped symbol will light up to warn of issues with the vehicle's battery or alternator. Seek service soon, or you could find that your car will not start. |
|    | Engine Coolant Temperature Warning: If your engine is getting too hot, a thermometer that's submerged in wavy lines will show up on your dash. Immediately pull over to a safe location and turn off the car, opening the hood and allowing the engine time to cool down. If the light reappears when you restart the vehicle, seek service immediately. |
|    | Engine Oil Pressure Warning: A dripping oil can symbol points to low oil pressure in the engine. Immediately find a safe spot to pull over and shut the engine off. Do not drive the car, but seek service immediately, or run the risk of serious engine damage. |
|    | Electric Power Steering System Warning: Seeing the letters EPS glow indicates an issue with your Sonata's Electric Power Steering System. Seek service immediately in order to keep your car safe to drive. |
|    | Low Fuel Level Warning/Reminder: If your Sonata is almost out of fuel, a gas pump will light up to remind you to find a gas station soon. Simply head to the nearest gas station and refill your gas tank. |
|    | Low Tire Pressure Indicator: The low tire pressure indicator looks like an exclamation point inside a tire shape (!). Check the pressure with a manual gauge, and if the indicator is incorrect, get your car in for a tire pressure monitoring system check. If the tire is not properly inflated, pump it up to the proper pressure as soon as possible. |
|    | Malfunction Indicator Light: Seeing the outline of a motor glowing points to an issue with your Elantra's emissions control system. Seek service soon to get the problem diagnosed and fixed. |
|    | Parking Brake and Brake Fluid Warning: The Sonata's braking system is represented on the dash by three different lights: the word BRAKE, an exclamation in a circle, and the letter P in a circle. Seeing one or all of these symbols could mean the parking brake is engaged, brake fluid is low, or there's a problem with the system as a whole. Check that the parking brake is not engaged, and if indicator lights remain, seek service right away. |

Special System Dashboard Lights in the Sonata
The Hyundai Sonata can be equipped with a suite of driver assisting safety technologies, which help to keep you and your passengers safe on the road by alerting the driver to potential safety hazards, and helping to avoid common causes of collisions.
AEB Light: A mini-car diagram that depicts one car moving forward and the other getting hit indicates that your Sonata's Autonomous Emergency Braking system is engaged, keeping your car from a collision with an object or another vehicle.
ESC Indicator: Seeing a car symbol driving off with wavy tread lines is one of two that could light up from the Electronic Stability Control system. When the system is on, that's what you'll see. When it's off, you'll see an identical symbol plus the word OFF. No action is required.
LDWS Indicator: A car shape head-on with arrows coming in from the left and right indicates that the Lane Departure Warning System has been turned on, helping you to stay safely in the center of your designated lane. If necessary, steer your car back to the center of your lane.
Make Your Service Appointment
If you need help getting your Sonata's dash lights resolved, contact the Hyundai experts at the Action Hyundai of Millville service center. 
Factory trained and industry proven, our technicians know just what to do to diagnose an issue and make the proper tweak or fix to get you back on the roads of Cape May County, Salem County, and Cumberland County in no time. 
If you need to schedule a service appointment for your Sonata, or if you have any questions about your vehicle, contact us today.