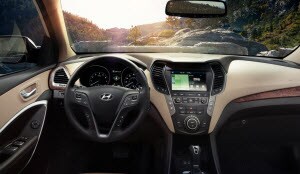 If you're like many modern car consumers in Millville, Bridgeton, and Vineland, then one of your most desired features when searching for a new car is advanced technology, and that's precisely what you'll be getting when you pick the Hyundai Sonata. The latest version of the excellent Sonata is packed with refined technology that will be sure to impress even the most discerning of consumers. 
If you've been thinking about purchasing the Sonata, it's important that you take a closer look at this enticing vehicle and its best tech options. Learn about the numerous tech features of the Hyundai Sonata and find out how you can get the most out of this top-quality vehicle.  Contact us today for more information!

Stay Connected Wherever You Go
When consumers look at the technology offered by a modern car, one of the main questions is what kind of options are included for smartphone connectivity. If you want to make sure that you can easily link your smartphone to your vehicle, then your number one choice in the coming year is the intuitive Hyundai Sonata. 
The Hyundai Sonata provides multiple options for connecting your smartphone in your car, no matter the brand of smartphone that you own. Inside of the Sonata, you'll have access to Apple CarPlay, Android Auto, and Bluetooth technology so that you'll be able to use your smartphone wherever you are on the road in Millville, Bridgeton, or Atlantic City.
Technology Features Meant for Utility
An underrated factor when examining a car's technology features is what it offers in the way of convenience and utility, which are two of the top reasons that you need to consider the Hyundai Sonata. This vehicle is absolutely loaded with helpful technology that makes driving the fun and easy experience that it should be. 
First, the Sonata is the only car in the midsize class that offers a smart trunk with hands-free opening. Secondly, a smart cruise control with stop and start capability makes driving your car easier than ever before. Finally, a rearview parking camera makes sure you can avoid those stressful backup collisions.
Entertainment and Navigation
Additional areas where you can expect big benefits from Hyundai Sonata technology is in terms of entertainment and navigation. Hitting the road in the Sonata means having one of the most entertaining car rides of your life, making it a wise idea to learn more about these options. 
The entertainment tech features of the Sonata are centered around crystal-clear music, which is provided by SiriusXM radio and played through high-clarity Infinity speakers. Also, a touch screen navigation system powered by Sirius Travel Link will help you map out your trip, including stops for food and fun along the way.
Experience the Hyundai Sonata
If you're interested about testing out the technology of the Hyundai Sonata for yourself, then you need to schedule a test drive today at Action Hyundai of Millville. When you visit Action Hyundai of Millville, you'll be working with a dealer that has your best interests at heart, working to help you in whatever way that you need. Come see us today and learn more about our services.