Hyundai has certainly impressed the automotive world lately with
their latest line of premium vehicles
. More and more people in the Cape May County, Cumberland County, and Salem County areas are making the switch, and their SUVs are proving to be particularly popular. All models have something special to offer, but the Hyundai Tucson could be the SUV you've been looking for.
Equipped with some of the best features on the market, the Tucson has proven itself to be a reliable companion to all kinds of drivers around town. Could it be the same for you? Find out in our detailed overview of everything the 2019 Hyundai Tucson has to offer.
Hyundai Tucson for Sale Millville, NJ
Hyundai Tucson Maintenance Schedule
Spacious Interior
The new-model Tucson will still offer the satisfying amount of interior space as last year's model, so you'll have plenty of room for passengers and cargo alike. When you're behind the wheel, you'll have 39.6 inches of headroom and 41.5 inches of legroom, so you'll have all the room you need to stretch out. Rear passengers can enjoy the ride as well, with 39.2 inches of headroom and 38.2 inches of legroom.
Cargo capacity is expected to be the same, with an impressive 61.9-cubic-foot maximum cargo hold. Even if you have a full house with you on your drive, you can still fit up to 31 cubic feet of cargo behind the last row of seats. The seats themselves fold down in a 40/60 split, so feel free to mix and match as you need.
2019 Hyundai Tucson: Performance
Even from the base trim level, the new Tucson sports a satisfying four-cylinder engine that can offer 164 horsepower, coupled with a six-speed automatic. If that's not enough for you, you can push it a bit further with the upgraded 2.4-liter inline-four engine that produces 181 horsepower. The upgraded engine also sports a six-speed automatic transmission.
All-wheel drive is also an option on every version of the Tucson, so you can always opt for extra control should you want it. This isn't your everyday AWD system, however, as it takes control to the next level. The system is constantly monitoring your driving, keeping an eye out for any slippage or loss of control. When the slightest problem is detected, it can alter your torque, power, and brakes on a wheel-by-wheel basis to ensure you remain firmly in control.
Technology at Your Fingertips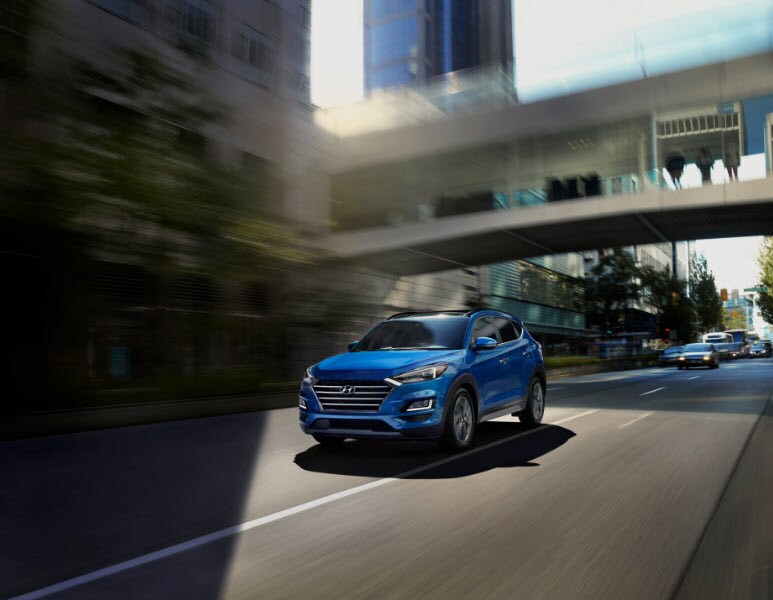 When it comes to technology, the Tucson has some of the best, especially regarding safety. Numerous safety features are available standard in all Tucson models, like forward collision detection and active lane control. The former can help you avoid collisions by applying the brakes for you, while the latter can edge you back into your lane should you start to drift out without signaling.
Additionally, you'll find an advanced infotainment system inside the Tucson with a 7-inch touchscreen interface. It comes standard with Apple CarPlay™ and Android Auto™, so you can connect your smartphone to your car with ease and access all your favorite apps.
Test Drive the 2019 Hyundai Tucson
If you think the 2019 Hyundai Tucson might be right for you, it's time you test it out for yourself. Head to Action Hyundai of Millville, your local Cape May County, Salem County, and Cumberland County Hyundai dealer, and take one for a spin. Get in touch with our friendly team today, and we'll be happy to schedule a test drive for you.