The oil change is the heart and soul of your car's routine regular maintenance. It's essential to keep your car running like new for as many years as you drive it. Keeping your oil changed on a regular basis will ensure that it keeps working like it should, lubricating your engine and protecting it from heat and friction.
There's more to your regular maintenance visits than a basic swap of old oil for new. Many drivers in Cape May, Salem, and Cumberland counties are interested in what's involved in a regular oil change. Let's find out how your technician keeps your car in tiptop shape with every visit.  Schedule a service appointment today to have your oil changed by an expert!
What's Included in an Oil Change?
So what is included in an oil change? Naturally, the core of the procedure is emptying out the old, dirty oil, and replacing it with new oil. There are a number of other things that will be checked, updated, repaired, and replaced, and these can vary from visit to visit, depending on the make, model, and mileage of your car.
For the most part, in addition to changing your oil, the technician will also change your engine oil filter. They might also check the other fluids in your car, including windshield wiper fluid, transmission fluid, coolant, and power steering fluid. They will refresh and refill these fluids as needed.
At specific intervals, they'll also check your lights, battery, wiper blades, even your engine and cabin air filter. For specific details about what you'll get at each maintenance visit, check your maintenance agreement or owner's manual.
The Importance of Oil Changes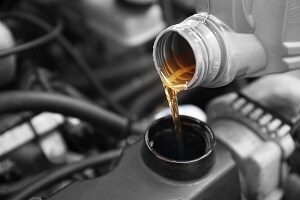 Keeping your oil fresh is essential to your car's function. Oil is the lifeblood of your vehicle. It serves to lubricate the engine as it moves, while protecting it from the heat created by the friction of the movement. It also cleans your engine, picking up dirt, debris, and other particulates so they don't foul up the works.
The more it does its job, the less efficient your engine oil becomes. Old oil gets thick, sticky, and viscous, turning into sludge. This sludge can damage your engine, doing the opposite of what oil should do. That's why oil changes are vital to keeping your car running.
How Often Should Oil Be Changed?
Oil changes should be handled on a regular basis, and the specific interval depends on your individual make, model, and year of car. Once upon a time, it was assumed that oil should be changed once every 3,000 miles. This is no longer the case, though many quick-change places still push it. In truth, most cars can go anywhere from 5,000 to 10,000 miles between oil changes. Check your owner's manual or look for your dashboard indicator light to know when it's time for a regular maintenance visit.
Get Service at Action Hyundai of Millville
If you're in the Cape May County, Cumberland County, or Salem County areas and you're due for an oil change, or you'd like more information on what's included in an oil change, Action Hyundai of Millville can help. Give us a call or stop by our service center to schedule an appointment today!